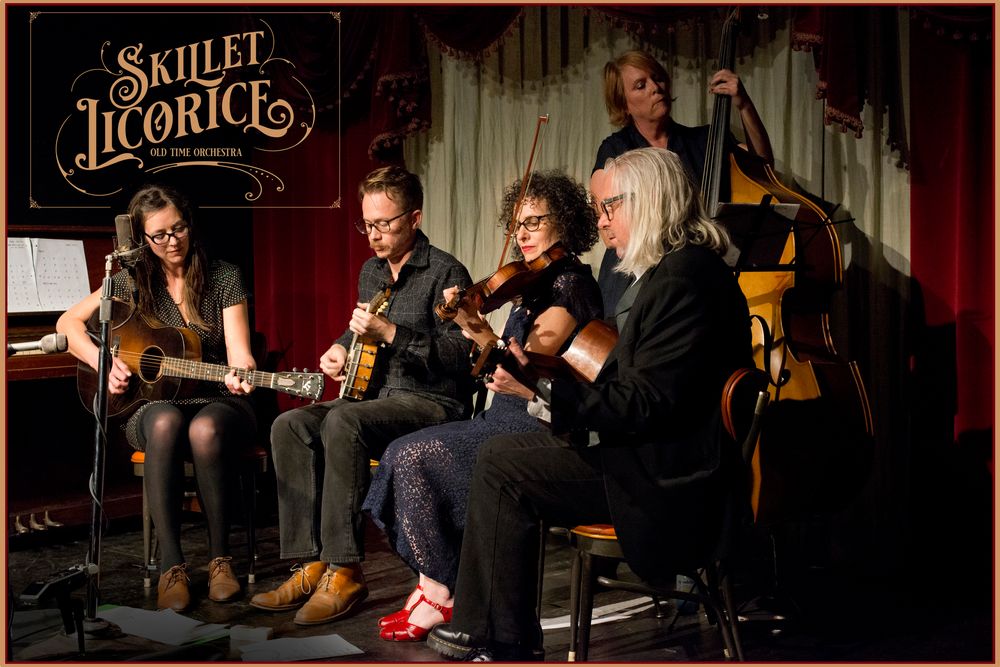 Skillet Licorice is the latest project from San Francisco Bay Area roots-music luminaries Elise Engelberg and Matt Knoth. Essentially a musical consortium, Matt & Elise are the core of an All-Star lineup featuring many of California's hottest old-time musicians.   The result is a full fledged proto-swing orchestra capable of expert musicianship in a dizzying array of folk genres. Whether they're playing hot fiddle breakdowns, slinky blues, sparkling banjo breaks, ragtime or dreamy waltzes Skillet Licorice displays an impressive command of styles and techniques that comes from deep study and loving dedication to America's folk traditions. With the help of their talented friends they've put together an incredible repertoire that is essentially traditional, yet with a modern approach that is anything but stale. Skillet Licorice is hot, sweet, and just a bit greasy!
Elise Engelberg (fiddle, banjo) a Kentucky native, got her start in music as a classical violinist. After moving to California, she rediscovered her bluegrass roots and began learning to play the fiddle. Since then, she has became a sought after fiddler in the Bay Area old time scene. Elise has recorded with the Crooked Jades, is a founding member of The Mercury Dimes and has toured with the Stairwell Sisters.  Her love for teaching young children has afforded her a thriving music studio in San Francisco.
Matt Knoth (banjo, guitar, vocals) Matt Knoth comes from San Jose, CA where he grew up playing and listening to bluegrass with his father, KFAT Radio Legend Cuzin Al. In addition to the 5 string banjo, Matt is a driving old-timey guitarist and founding member of the rocking old-time group, The Mercury Dimes, and has shared the stage with Peter Rowan, Danny Elfmann and Chris Thile. When not performing as a blazing hillbilly star, you can find Knoth in the Marin Headlands pursuing his love of nature photography.
Frequent collaborator and friend Clinton Davis is an old-time folk musician based in San Diego. A fifth-generation Kentuckian, Davis grew up in Carroll County with faint residues of old time music lingering in the air and in his family's past. He currently performs on guitar, banjo, fiddle, harmonica, mandolin, and piano. He has performed at folk festivals across the country including Wintergrass (WA), Port Townsend Acoustic Blues Festival (WA), National Jug Band Jubilee (KY), Brooklyn Folk Festival (NY), the Topanga Banjo & Fiddle Competition (CA), and the Santa Barbara Fiddler's Convention (CA). In 2015, No Depression called his work "a joyous and soulful restoration of one of the lost treasures of American musical tradition." That same year, his album with the G Burns Jug Band was awarded "Best Local Recording" at the San Diego Music Awards.
Katy Hill Harris (guitar, vocals) Katy is founding member of the popular old time ensemble the Hi-O Revelers... Katy's timing is so impeccable, you'd probably guess think she works in a watch factory or something.... and you'd be right!  In addition to lending her sweet vocals to the Licorice sound, Katy's bluesy phrasing is key to keeping the skillet good and greasy. 
Kelly Marie Martin (vocals, bass) is based in Los Angeles, where she sings and plays guitar and upright bass with LA's favorite old-time quintet Echo Mountain. Kelly was a crucial part of fomenting a "squarevolution" in LA with trio Triple Chicken Foot, hosting a monthly jam and square dance that continue, along with founding annual festival the Los Angeles Old Time Social, now in its fourteenth year. Triple Chicken Foot produced 3 albums and were featured on NPR and in the Los Angeles Times. In 2017, she released her first solo album of original songs and sound interludes, The Last Kind Word.
Emeritus
Mike Lewinski (banjo, fiddle, vocals) did not grow up down south, and his grand pappy never played the fiddle. Mother never sang the mountain ballads to send him to sleep, and square dancing is not an old family tradition. This suburban born skater-kid got into old-time after he aged out of punk - and since square dances are the perfect place to hear old time music live, Mike started regularly attending square dances, until it broke up his relationship, sent him to grad-school classes hung over, and Suzy Thompson started referring to him as "Mike-Swing Your F@#king Partner - Lewinski.  True Story.
Erik Pearson (guitar, uke) has been an integral part of the Skillet Licorice sound since the beginning and tours the US with master storyteller Diane Ferlatte (accompanying her on banjo and guitar), the Evie Ladin Band and the Crooked Jades. 
Allegra Thompson (bass) started out on the path to early country music earlier than most, being the daughter of old time legends Eric and Suzy Thompson. Allegra has inherited both her parents' love of traditional music as well as her mother's powerful singing voice. She backs up her singing with a strong rhythm section, playing both standup bass and rhythm guitar.
Julay Brooks (mandolin, guitar) Julay Brooks is a musician based in Portland. They play fierce backup guitar in the old-time band Rats Gone To Rest, and baroque keyboard masterpieces at home for fun. Julay is an honorary member of Skillet Licorice, joining them whenever the stars align.